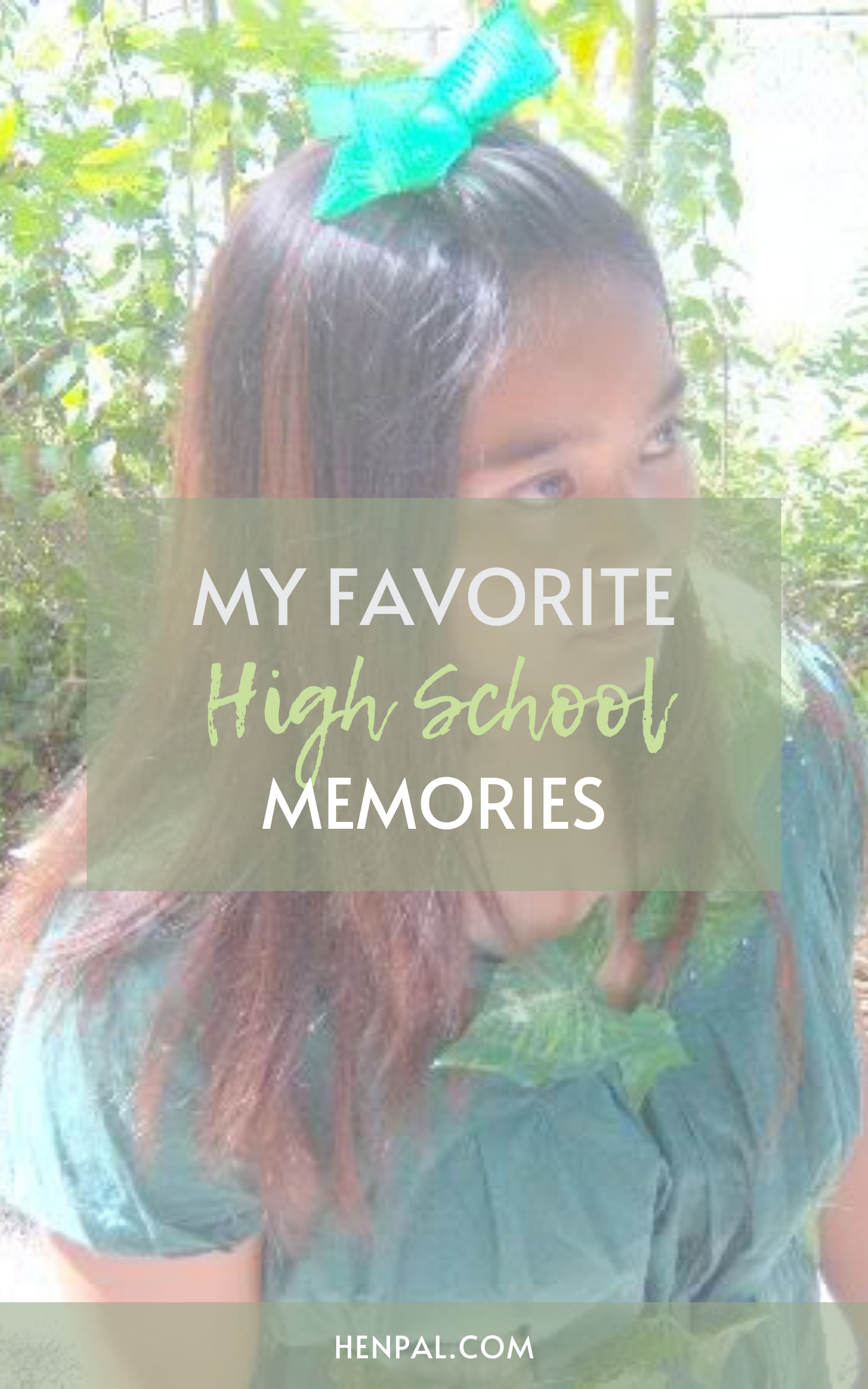 For some, high school has been some of the greatest years of their lives. For others, high school is a part of their life that they want to forget.
I'm somewhere in the middle.
I was a hardworking student living an average high school student life.
There are memories that I cherish and then there are memories that I occasionally want to burn.
The way I see it is that high school did not produce the greatest years of my life, but high school wasn't so bad that I want to forget about my experiences there either.
When I mention high school giving some of the greatest, or not-so-greatest years, I am only referring to life in high school as a student. Memories such as friends' birthday parties or earning a driver's license are not part of the fond memories included in this post.
I Cherish Looking Back On
FILMING THE 'WHAT'S YOUR STORY' VIDEO CHALLENGE
The video challenge was part of my Computer Apps class. Our school was invited to participate in this worldwide competition for students to film a video, essentially about the place of where they come from.
I remember the theme that my group's video had involved filming around the island. And for safety, my parents followed in a separate car to supervise.
I don't remember every exact thing we did and planned for the project, but I just remember having a really fun time exploring these places, filming, and spending time with my friends.
Spoiler: We didn't win the challenge, but it was still a great opportunity to represent our school.
HANGING OUT AT ONE OF THE BENCHES AT THE FRONT OF THE SCHOOL
I don't remember how we determined that the front bench was THE official hangout spot of our friend group, but it was for the entire four years of high school. And although we usually changed our bench, depending on what was available, our unofficial official bench was the one closest to the counselor's office. It was mainly because it was the only other bench area that the sun didn't touch.
Mornings, lunch breaks, and after schools were often spent at that spot. We ate our lunch and talked about anything at that spot. The front benches witnessed friendships, laughter, drama, and secrets forming.
They were my favorite spot in the entire school, and I will always cherish my memories with them.
TAKING A CERAMICS ELECTIVE CLASS
Never in my life had I thought I would be taking a Ceramics class. It was a last-minute decision when I transferred to a different high school and I didn't like the first elective they had placed me in. Ceramics 1 was the only other Freshman elective that I thought I could survive.
So I took it.
I knew I wasn't the best, or even close to being good, but wow. Looking back now, I'm so freaking happy that I took that class. My instructor was hilarious and obviously insanely passionate and talented about what he taught us. I remember being part of the class that was assigned to create a new mural for the area at the front gate, and all I can say is that it was a challenging but rewarding experience.
I also loved being able to take home everything I made and gift them to my parents. I made sure to make a lot of cups, plates, and bowls. Did my parents ever use them? Not for eating or drinking. But for decorations, which I never minded.
Ceramics II was offered, but at the time, I really didn't think I would improve and be good enough to take and pass the class, so I didn't. I would love to take another ceramics class and apply what I've learned and hopefully create new and improved pieces.
PLAYING PUCK IN A MIDSUMMER NIGHT'S DREAM
I think I've probably filmed about a dozen plays for my English classes throughout my four years. Nothing beats my role as Puck in William Shakespeare's A Midsummer Night's Dream. At the time, and even today, I was a fan of Puck's playfulness and trickery, and it was a treat that I got to put my own twist on such a witty character.
I thoroughly enjoyed writing a modern-day script version, being in costume, filming in various places, and having my close friends by my side as we put together a hilarious play.
I hope at least one member of our group still has the edited version of our play. I most likely will not post it for public viewing, but I would really love to watch it again.
BEING A CLASS REPRESENTATIVE
I didn't run for this position. I don't think it was even something that needed to be elected and voted on because I simply volunteered and was accepted.
As I keep mentioning, one thing I wish I could've done more in high school was to be proactive. When I volunteered to be a class representative for our junior class, I experienced a lot more events and activities than I had ever done in the last two years.
I was scared and worried, but I was going on adventures, working on things I didn't think I was capable of doing, and it was refreshing. I also got to spend more time with my friends and learned that I was a really robotic dancer.
MEETING NEW, LIFELONG FRIENDS
If there's one thing I can thank high school for the most, it was its generosity to introduce me to some of my closest friends to this day. There are a couple who I have unfortunately lost contact with, but I'm grateful that I did not leave high school without any bad blood with the friends that I loved dearly…well, except for one friend, but that's another ball game.
The friends with who I am still in contact today, these are the friends I know will be with me until our very last breath (not literally). The time to exit each other's lives has expired, and we are stuck with our antics and love for the rest of our lifetime.
Graduation day was a bittersweet moment for me, as I think it is for many graduates.
(I started tearing up thinking about the events leading to graduation day.)
I was very excited to graduate. I was excited to watch my friends from other high schools graduate. June 2012 was a remarkable month for many of us.
And it was the moment that ended a chapter of our book and began an entirely new novel of our lives.
English, Japanese I & II, Computer Apps I & II
SY 2010-2011, Junior Year (11th Grade)
This is quite easy to choose since I rarely joined clubs – Youth Environmental Ambassadors (Y.E.A). The club focused on improving the environmental issues within the island.
I think I'm going with pep rallies. I remember being excited to watch the dances that each grade put together, and they were always days to enjoy with my friends.
FAVORITE THING ABOUT MY HIGH SCHOOL
What I absolutely appreciate about SSHS was the graduation requirement for students to complete a certain number of volunteer hours in the community. I think this was a great way for students to really get out there and assist as many individuals, companies, and/or organizations as they can, while possibly gaining extra knowledge, mentors, and skillsets along the way.
BUS RIDER OR DROP OFF & PICK UP
I've always been a drop off and pick up type of student.
Although I didn't excel at either, I chose PE class. I didn't think I would've been fit to be in JROTC.
I was definitely the student who tried my best to show up to class before the first bell even rings. If I pushed it, the latest I arrived in class was before the late bell rang.
CAFETERIA FOOD OR PACKED OWN LUNCH
There were times when I did pack my own lunch, but I often bought my lunch at the school's on-campus canteen. I don't think I had ever eaten cafeteria food during high school.
To not put them in the spotlight, I'll be listing only their initials: AC, LG, DT, RX, SC, AO, MN, and YT.
INSTRUCTOR I WAS CLOSEST TO
CLIQUE I ASSOCIATED MYSELF WITH
I would consider myself as "The Floater" because I hung out with anyone who was available to hang out. If everyone was doing their thing, and I had free time, I hung at a classroom and did some work.
I was definitely girlier back then in the sense that I wore a variety of fashionable short-sleeved blouses. They were often paired with a pair of jeans (sometimes Capri), socks, sneakers, and my signature outfit of choice – a hooded jacket.
MOST REBELIOUS THING I DID DURING SCHOOL HOURS
*Spends about five minutes trying to remember* I don't think I did anything completely rebellious, unless whispering to a classmate when the instructor was lecturing counts.
CRAZIEST EVENT WITNESSED DURING SCHOOL HOURS
I still can't believe this incident happened feet away from me. It was during senior year and seniors were talking about Senior Skip Day, but I think something happened that my class didn't participate in it. Basically, on the actual Senior Skip Day, a bunch of seniors from another high school thought it would be fun to pay our school a visit by visiting convoy style. Unfortunately for them, our exit gate was locked, the principal's office was feet away from the gate, principal saw the events unfolding, rushed outside his office, ordered the nearby staff to lock the entrance gates, and the seniors who entered had no chance of exiting the campus. Suffice to say, it was an eventful lunch hour.
My biggest accomplishment would definitely have to be passing all of my classes. There were moments when I was bordering a failing grade, but I thankfully pushed through and passed.
ONE THING I WISH I COULD'VE DONE BUT DIDN'T GET THE CHANCE TO
I wish I had joined more clubs and other out of school activities to help build my experiences, character development, social circle, and skillset.
ONE THING I MISS ABOUT HIGH SCHOOL
I surprisingly miss PE class because, even though I was not great at physical activity, the class did help me stay physically fit.
ONE-SENTENCE ADVICE FOR CURRENT AND INCOMING HIGH SCHOOL STUDENTS
High school is only a quarter of your life, make it a quarter to remember.
If you've graduated from high school, what is your favorite high school memory? If you are an ongoing or incoming high school student, what is one memory you want to create?